I did it! I ran the 5k Color Run here in KC this past Saturday!
It was a blast. I bet having my sister with me would have made it even more fun but I really did enjoy myself. I was pretty nervous to go alone and had asked all my Facebook friends if anyone else would be there this year.
Next year, I'll pay the extra $10 or so and have them ship my check-in package to me. This year, I had to pick it up at Kohls in Independance on Friday before the race. I could have done the check-in at the race, but I thought I'd have to get there way too early.
So Friday night, I picked up Baby Love and we made the treck out to Indepenance. Not exactly what I wanted to be doing on a Friday night. She did great but I'd rather not have her in the car longer than necessary.
They did a really great job at communication. It easily could have been over or under-communicated of check in times, location, reminders about the race, and purchase requests. In total, I received 5 emails…(1) the original purhcase, (2) a reciept, (3) registration information, (4) a reminder with the registration ID, and (5) a race day guide.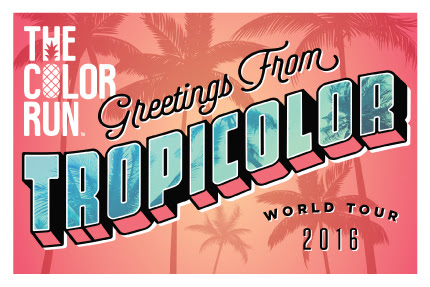 The race day guide was really helpful as was the reminder with the registation ID. I needed the ID information when I got checked in so it was nice to have it at the top of my inbox.
The guide told me when and wehre I could check-in. I had 2 options, one the day before at Kohl's (that's the one I did) or at the race. The guide also told me where the race was to take place and when it started.
Since the race was supposed to start at 8:00 AM with various heats (groups running) going until 9:00 AM, I opted to get there early. I hate being away from Baby Love more than absolutely necessary since I'm at work all week. I had planned to take her with me and had even gotten her registered but since Mike was home and I wasn't sure what to expect with the colors I decided to let her sleep. All the more reason to get there early!
I got there with PLENTY of time. I think I got there around 7:00 AM. Probably overkill. I just wasn't sure how many people would get there early and absolutely did not want to wait in a long line to park!
Around 7:15 AM, they started some Zumba on the large stage. Zumba is a great warm-up so I decided to dance a little and enjoy the beautiful morning. They did a conga line up to the start area, too.
It was agonizing waiting for the run to start. Not that it was boring or anything. Their announcer was amusing and kept us engaged. The anticipation! That's what was killer!
Finally! It got started. Right on time too.
From my training, I like to go at an easy pace. On the treadmill, I run around a 5.5. That means I do about an 11 minute mile. It's hard to tell how fast I actually ran but I know I started the app called Map My Run right as I started running around 8:00 AM. When I stopped the app, It was around 8:32 AM. I'm pretty happy with that!
I'm not positive but I belive they had color stations (those arches) set up every half a mile or every 3/4 of a mile. The first one was yellow and then there was a blue. When I asked how far we'd gone at the second color station, the lady said 2. She must have meant I was started the 2nd mile because that most definitely was not 2 miles yet.
I didn't get a picture of the first two.
I got pictures of a blue and a pink archway. The blue was around 1.5 miles and the pink was around the start of the 2 mile.
The people working the event were throwing the color on us. It was pretty fun because they also were encouraging. A lot of people that had stopped to walk would pick back up and run trhough the archway.
The first picture (above) was right after the race. I had visited a few of the booths they had setup. The second picture (above) was after they did the Color Cloud. Now that was fun. I'm glad I didn't have Baby Love with me for that.
Everyone at the stage had a color packet. We got the color packet and a medal at the end of the race. Anyway, they were also throwing out free stuf and a TON more color packets. Then they did a count down and everyone put their color packet in the air!
CRAZY CAOUS
I ended up breathing some in and eating some. It wasn't bad but not a good environment for a 16 month old. Still, it was super fun!
I rolled down the windows in the car on the way home and I could just see the color dust fly off me and out the window. HA!
Next year is a definite!
What are some events you've done, or will be doing, this year?